Helen Sharman, Astronaut
Pages in this section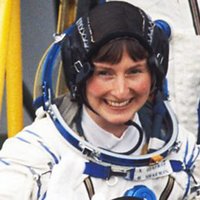 When it comes to being an astronaut I'd say just give it a go… if I hadn't just given it a try, I wouldn't have been into space at all.
From confectionary scientist to astronaut
Helen spent eight days in space as an astronaut, serving as a crew member on the Russian Mir space station. After applying to an advert while working as a scientist for Mars confectionary company, she was selected from 13,000 people! Following a tough 18 months of training on Earth, she travelled out on a Russian Soyuz spacecraft.
Interview with Helen Sharman
Space was an amazing place to be, but astronauts don't just sit around enjoying themselves - most of her time aboard was carefully planned out so that she could carry out scientific experiments, and help to maintain the space station.
In the relaxation time she did have, she mostly gazed out of the space station windows at space and planet Earth. It was a fascinating experience, and it made her feel she had played a part in helping humanity to discover more about the universe.
How did you become an astronaut?
I was a scientist, working for Mars, the confectionery company at the time. I specialized in chemistry. There was a radio advert inviting people to apply to be an astronaut on a mission to the Russian Mir space station, and I decided to give it a go. 13,000 people applied – we went through lots of tests, and I was selected.
So you hadn't done any special training before that?
No. They wanted someone who was the right age, and had a degree in science, and was still doing science as part of their job – that was because you had to do experiments while you were in space. Also, it helped that I had been good at languages because of the need to speak to people from other countries. But no special training before, no.
So what qualities did you need?
There are some basic physical requirements - do you cope well with motion sickness, do you cope well with g-forces in the centrifuge, does your digestive system work in the right way, that sort of thing. But a lot of it is down to personality. How will you react to difficult situations? Will you get on with other people?
So being sociable and fit are important?
Yes, though you don't need to be able to run marathons or anything. People often think that to be an astronaut you need to have done very specific things, but as much as anything it's about being a good all-rounder - someone who's done a variety of things, is interested in life, is trustworthy and can work in teams.
What did you actually do all day?
I was supposed to wake up at seven in the morning, and go to sleep at 11pm, and all the time between was tightly scheduled. I carried out various of experiments, and had to help take care of the space station – and travelling there and back I also had to help operate the spacecraft of course. In the evenings we had a little time to relax.
What sort of experiments did you do?
They were mainly to do with plant growing and medicine – for example I grew potato roots, which helped us learn about how roots grow. One of the most interesting experiments was putting ceramic films on the outside of the spacecraft to explore the effects of radiation. What we learned from that could help with building satellites or human spacecraft in the future.
Why are these experiments in space so important?
In space you can do things that are impossible on Earth, mainly because of the weightless conditions. For example, we can understand something like osteoporosis better because we can see how bones work without the pressures of gravity. Also, there are certain chemical reactions, certain kinds of crystals and metal mixtures, that you can produce only in weightless conditions.
Were you always interested in space?
Not particularly, although at school I always enjoyed science very much. My father was a physicist and he would explain to me how science can tell us how things work, and solve problems. I like understanding how things work the way they do.
What did you study?
I did maths, physics, chemistry and general studies A levels, and then chemistry at university. I wanted to work in industry, and I thought that chemistry would be a better option than doing something like maths.
After university I worked at a company called GEC, researching and developing materials. Then I moved to Mars where at first I was a research technologist working on ice cream.
Another dream job! And what do you do now?
I work in the Chemistry department at Imperial College London, as the Operations Manager.
What advice would you give to young people interested in a career in space?
Well I came to it through my work as a scientist, and I'd definitely encourage people to think of a career in science. Science opens up the world - it's such an interesting topic and it enables you to play a part in discovery and making our world better.
When it comes to being an astronaut I'd say just give it a go.
I almost decided not to apply for the Mission, and if I hadn't just given it a try, I wouldn't have been into space at all. Nowadays the National Space Centre in Leicester, which looks after some of my personal space effects like my flight suit, does a really good job of showing the significance of space travel and how interesting science is, with just the right amount of information, so that different people can take from it what they want.